Warranty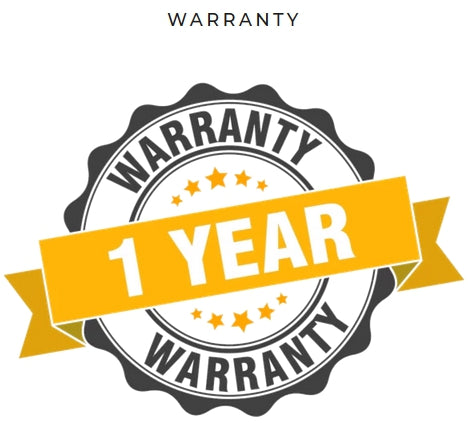 We stand behind all of our high-quality products. With everything we manufacture, we use the best processes and materials available. Everything goes through intensive testing and strict quality checks. We do the little things to ensure a great product. We guarantee our products against defects in materials or workmanship for 1 year from the date of receipt.
If you believe your product is defective, please contact us at
[email protected]
and provide a valid proof of purchase (order number or receipt.) We will repair or replace the defective product, or issue a complete refund, delivery charges included. Unfortunately, we cannot offer a warranty without valid proof of purchase.
And we saved everyone unique serial number of the products in our datatbase for checking the warranty status, we will not provide any warranty if the item not purchased from us and the unique serial number of the return item cannot find out in our warranty database.
IMPORTANT THINGS TO NOTE:
-All warranty exchanges are tested in-house for proper product functionality since we always strive for customer satisfaction. If there's a problem, we want to get to the root cause of it. However, a lot of the time, we find that some users experience FWAPTU (frustration with a product that's unfamiliar). Before you return your items, take another look at the instruction manual or shoot us an email here and we'll see if we can resolve your issue. If we receive a product deemed to be in full working order after testing, we will send it back.
-A1smartshop.com® warrants against material or workmanship defects for a period of one (1) year from the date of purchase. A1smartshop.com® is not responsible for damages caused to other devices made by third parties.
-If a material or workmanship defect arises with regard to any A1smartshop.com® product, and a valid claim is received within the 1 year Warranty Period, we will at our option:
(i) repair the A1smartshop.com® product using new or refurbished parts
(ii) replace the A1smartshop.com® product with a new or refurbished A1smartshop.com® product (iii) refund the purchase price of the defective A1smartshop.com® product.
(iii) all film cameras and films will not provide the warranty aftre opened and used.
-This warranty does not cover damages caused by negligence or misuse. Under no circumstance does the warranty policy cover replacement or cost of any electric device used with our product.
-if the drones were fly lost is not under the warranty and not accept the return.
-the drones must need to return to the manufacturer for warranty, please contact us for return address.
(For return or exchange request, please contact our support team first)
If you have any order inquiries, please provide your order number and describe your order inquiry in detail. If you have any product inquires or issues, please provide your screenshot and the videos of details about your questions. This will help us solve your issues sooner.
If you have any questions, please feel free to contact us at [email protected]. We will be happy to serve you better.
Our Head office address:
HUI FAI COMPUTER.CO
Block 2, 18 FLOOR, FLAT F,
MANTIN HEIGHTS, NO.28 SHEUNG SHING STREET,
HOMANTIN, KLN, HONGKONG
UK Warehouse:
Unit 1 Elstree Distribution Park, Elstree Way,
Borehamwood WD6 1RU, United Kingdom.