Paypal Buyer Protection Policy
PAYPAL BUYER PROTECTION POLICY 180 DAYS BUYER PROTECTION CLAIM
Buyer Protection covers all eligible purchases where PayPal is used, as well as payments made through our website. To take advantage of Buyer Protection, we require, among other things, that PayPal accounts be kept in good standing and ask that a dispute be filed within 180 days of your purchase or payment, Terms and Conditions apply.
Paypal buyer protection policy: https://www.paypal.com/UK/webapps/mpp/paypal-safety-and-security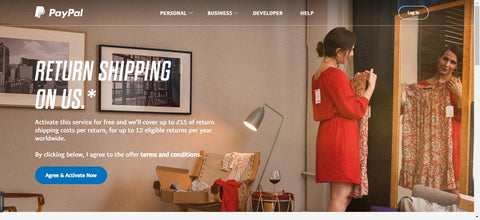 #Paypal cover the return shipping cost up to 12 returns on eligible PayPal purchases.
HOW DOES IT WORK?
It's easy! Whether you purchased something from the UK or anywhere in the world, we'll cover up to 12 returns on eligible PayPal purchases*. We'll reimburse you for up to £15 per request.

1. Return your item
Follow the seller's return instructions for your purchase. Remember to keep a copy of your return shipping receipt.

2. Submit a Refund Request
Log in to your PayPal account, select the purchase you returned and click on "Request return shipping refund". Submit the return shipping request form, along with proof of your return within 30 days.

3. Receive your refund
If your claim is approved we'll send a refund of up to £15 to your PayPal account within 10 business days.*